What is Graphic Design
Graphic Design, also known as Communication Design is the art of planing and projecting ideas and experiences through visual and textual mediums.
The communication is generally visual and takes place using images, graphic forms, text and words.
The communication experience can take place instantly or evolve over time through a marketing campaign. Graphic Design works on any scale, from a business avatar or icon through to its global branding campaign and it can be used for any purpose, whether it be Commercial, educational, political or cultural.
Graphic Design as an art form has been around for centuries. People have been studying and applying how to communicate visually on posters, postage stamps, signs, newspapers, packages and advertisements for hundreds of years. It is a truly exciting and creative craft with many rewards. Regardless if you are selling a product, promoting film or bring awareness to a cause, their is great power in understanding how graphic form can influence consumer behavior.
What to look for in a Graphic Artist
Obviously in our line of work we ask this question a lot. We use Graphic Design on an hourly basis so knowing which designers to hire is vital to our success.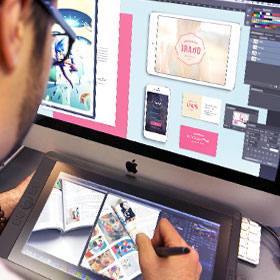 Here are the understandings a graphic artist must have. They must understand interpretation, targeting and messaging. Many designers understand some of these but not all designers grasp the way the relate to each other.
Interpersonal skills are vitally important. We have found over our years of experience this is not only about being able to work with other people in a project situation, but it really seems that designers who have excellent interpersonal skills also are able to translate that through their work and into their medium. We find designers that do not have these skills in abundance are often missing the mark, even though their work may be beautiful and they may be highly skilled in the application of their tools. The work often tends to miss the mark and doesn't convert to sales or hit the objective.
When interviewing a designer check they have previously been able to deliver consistent results. It sound obvious but we find there tents to be a lot of hit and miss. A designer with confidence in the history of their work is a big plus in our book. For us it comes down to conversion. A designer that produces campaigns and work that converts is much harder to find than someone who is all about the look. Like many business owners we find it doesn't matter how pretty it looks, if it doesn't convert to a sale or its objective than its just an extra expense.
Why to use Graphic Designers
We are all busy and live in an increasingly busy world. Our time is precious so its important to be able to capture someones attention in such a visually noisy space. Its so bad research now says our attention spans have shrunk to 8.25 seconds. That's actually shorter than a gold fish. So eye catching headlines that deliver your message effectively, whilst staying on brand and on point is essential. A great graphic designer can weave through this noise. They have the skills to get your message into the peoples view quickly and effectively. An excellent way to deliver information is to use an infographic.
What is an InfoGraphic
An InfoGraphic is an informative break down of important information in a digestible (at a glance) visual image using text, words, images and colour.
The psychology of attraction show us that the human brain is attracted to traits. These traits are not distinguished between people or things. Traits that are confident, passionate, interesting and engage are primal. Infographics do just this and engage that primal part of our brain. Deigned with this in mind it can grab attention and hold it long enough to input the information enough to capture interest. Tie this in with compelling copy through  a meaningful story that ignites the imagination and you can grab a customer quickly. Branded with your business colours, logo and identity and you have a formula that works.
Inforgraphics are able to communicate in a way traditional marketing cant. Not only does it look attractive and branded, it has the ability to teach. You can impart knowledge and learns in a way that is quick and easy to digest.