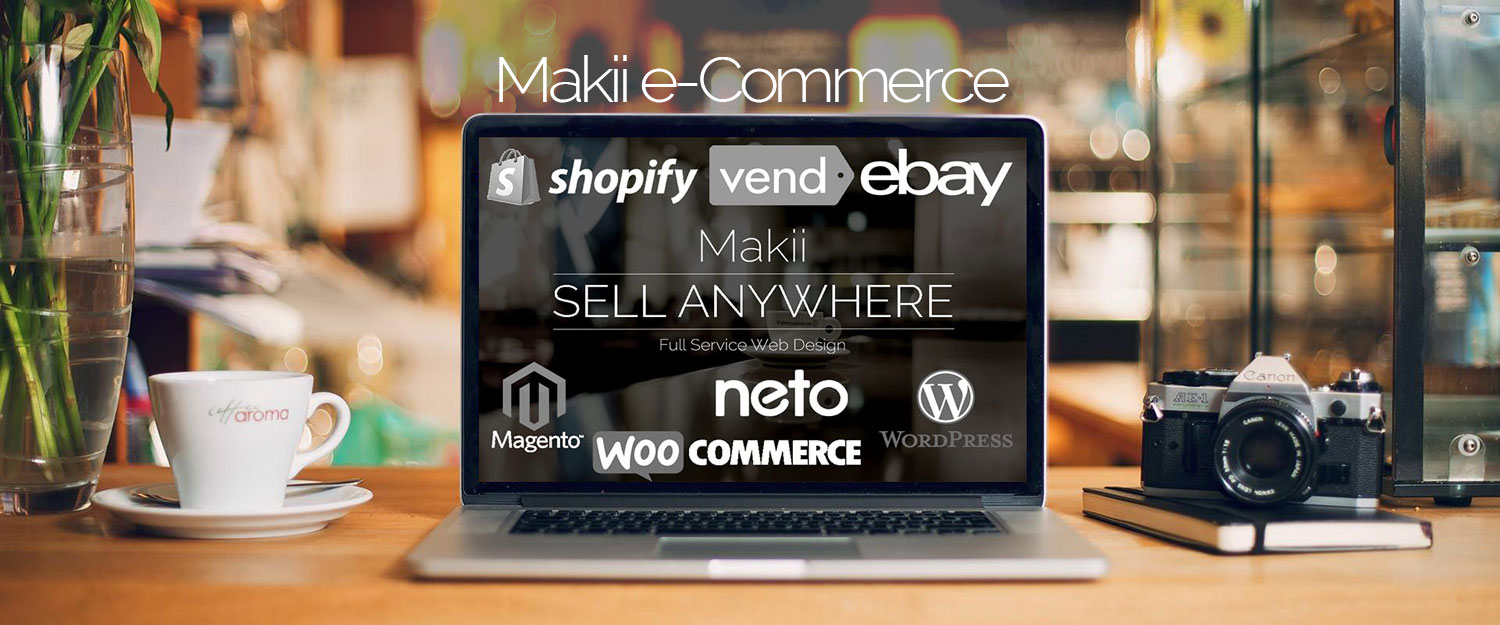 MAKII E-COMMERCE WEBSITE DESIGN CENTRAL COAST SPECIALISTS
SELL AND ACCEPT PAYMENTS ONLINE THROUGH YOUR ONLINE STORE
e-Commerce Website Design! the art of selling online.
WITH THE RIGHT STRATEGY YOU CAN ACHIEVE ANYTHING
WORDPRESS, SHOPIFY, VEND, NETO, MAGNETO, WOOCOMMERCE, EBAY
Be a Data Driven Business
WHAT YOU NEED
e-commerce website design is a very different thing to normal website design. Gone are the days of whipping up a pretty website with a shopping cart plugged in. People just don't buy from them. We have seen the trends come and go leaving businesses up heaved after laying out thousands of dollars for something that looks great but doesn't convert. They get the traffic but not the sales.
You'll need to know exactly how a customer found you. You'll need to know how they move through your site, and what makes them purchase and not simply close down your site and go somewhere else.
Just like traditional retail, you'll need your online retail store to be engaging, non threatening and have zero barriers to entry. You'll need your customers to trust your service and products. They should be comfortable to browse your online shelves, looking and understand your products with clear and accurate messaging. Shopping in your online store needs to be comfortable and a pleasurable experience that people want to share and do again.
WHAT WE DO
Understanding the phycology of a buyer is our strength. Creating websites that work for you. A solid shopping platform for your customers that works 24/7 with seamless integration into your in store POS systems.
We do this by placing the focus of your sales funnel, solely on your customer. We design from a customer centric perspective. This means we need to fully understand who your perfect customers are and how they need to interface with your e-commerce website.
We take your customers from finding you, purchasing your products and then following up so they come back again. This is a complete life cycle that leaves data you can review and use to increase your profit and decrease and wastage. This leave your customers and your business in a win win situation. Build brand loyalty, customer satisfaction and a successful business.
BECOME A DATA DRIVEN BUSINESS
Makii, Website Design Central Coast based, design, build and implement e-commerce systems, in whole or in part we implement Accounting Systems, Delivery Systems, Inventory Systems, Warehousing Systems, CRM, Customer Acquisition Strategies, Sales Funnels, Frontend UX Design in…
WORDPRESS, SHOPIFY, VEND, NETO, MAGNETO, WOOCOMMERCE, EBAY, XERO, MYOB.
We Create and Implement cohesive end to end solutions where each section talks to another. 
Exactly what you need for a business website design.
E-COMMERCE WEBSITE DESIGN CENTRAL COAST SPECIALISTS
A Digital Business
A Full Service e-Commerce WebDesign Company servicing businesses on the Central Coast NSW Australia.
Forward Thinking
We work with the future in mind so often its become the water we swim in. Your Central Coast Website Design local contact.
Problem Solvers
Secure Robust Online Solutions. Design-Group, Programmers, Integration, Implementation.
Customer Support
Fully Supported Systems. Customer service focused team. Fully service Phone and email support.
We're here to help
Regardless if you are an existing Makii Client or not, give us a call or shoot us a message. We're here to help and answer any questions you have about starting, improving or running an online e-commerce business.