Here is one way to help manage Junk emails Outlook 2015 Office 365.
Receiving junk emails can be frustrating. Here is one way to help manage Junk emails Outlook 2015 Office 365. We all know what its like to be bombarded with junk emails over and over again. Here is how to manage it so you never receive a junk email from the same domain again.
Previous versions of Microsoft Outlook allowed you to block an individuals email address, eg. Personsname@domain.com as well as anything from the domain eg. @domain.com.
Outlook 2015 office 365 does not have this option any more. Don't worry there IS a way you can still do it.
Click – Home
Click – Junk Button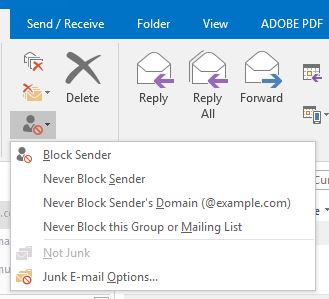 Click – Junk Email Options
Click – Blocked Sender from the top menu
Click – Add
Then you can just type @domain.com and Click OK.
That's it. Any emails coming from any person at this domain will be blocked.
Why is this important.
There are times you will want to block and entire domain and other times you just want to block a person at a particular domain. For example, you may receive spam from someone with a hotmail.com or a gmail.com email but obviously don't want to block all hotmail.com or gmail.com addresses.
It can take a bit of time to go through each and every time your receive junk emails having to add new domain names one by one. So what I personally do is just click the junk email button and then once a week go into the junk email options section and edit the email addresses that have been added. I simply remove anything before the @ sign leaving, @domain.com. This way you can do it all at once, quickly and easily.
Block Junk Emails quickly and easily all at once.
If you need help setting up other email programs there is a compiled list of tutorials here. Please let us know if you need help with anything else. Contact us